Indie Tsushin: 2023 April Issue
Indie Tsushin: 2023 April Issue
This is the 2023 April zine issue compiling articles from the インディー通信 Indie Tsushin blog, a handmade site celebrating and introducing indie and doujin games from Japan!
This issue contains:
The zine is viewable in browser (above) thanks to the HTML5 Reader for Electric Zine Maker by Jeremy Obuder, and available for download (below) in PDF, ePub, and MOBI formats. The ePub and MOBI files have a simplified layout, so those versions are recommended for screen readers and eReaders.
For more articles, videos, and zines, please check out the インディー通信 Indie Tsushin site! And if you make games and are based in Japan, please send us your stuff so we can cover it in future issues!
Support インディー通信 Indie Tsushin!
インディー通信 Indie Tsushin is ad-free, does not (and will never!) run sponsored content, and is mostly made by two people in their spare time. We write the articles, buy the games out of pocket, conduct and translate the interviews, lay out and edit the website and zines, pay for hosting and recording equipment, and so on. We do all this because we are gigantic nerds and hope that more people can play and appreciate Japanese indie games and their developers. We would gladly do it even if we never made a single yen from this.
BUT! If you enjoyed the zine, please consider paying for it! Any amount would be more than enough, and would go a long way towards boosting our morale and keeping us going. Not only that, it lets us pay guest writers to appear in the zine! If you can't afford to donate, don't even worry about it! Indie Tsushin will always be available to read for free and will never go behind a paywall. You can also help us a ton by sharing this zine or indietsushin.net, and by rating and reviewing our games and zines on itch. Thank you so much for all of your kind support!
2023 Spring Collection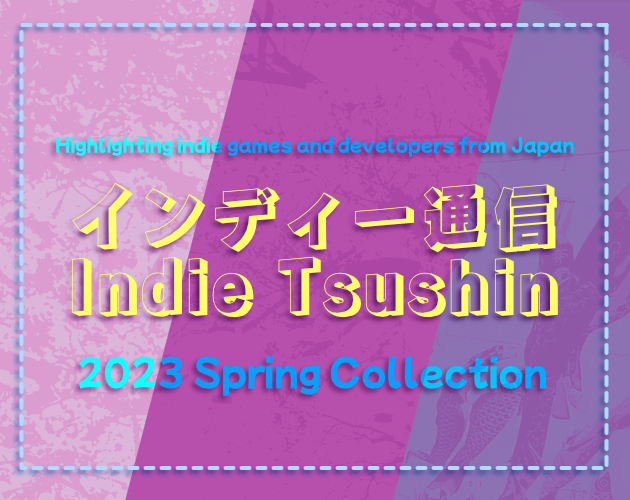 This issue is in the 2023 Spring Collection! Support インディー通信 Indie Tsushin and get this plus two other issues for $10!
Download
Click download now to get access to the following files:
indie tsushin 2023 04 pdf (singles).pdf
183 MB
indie tsushin 2023 04 pdf (spreads).pdf
192 MB
indie tsushin 2023 04 epub.epub
4 MB
indie tsushin 2023 04 mobi.mobi
4 MB