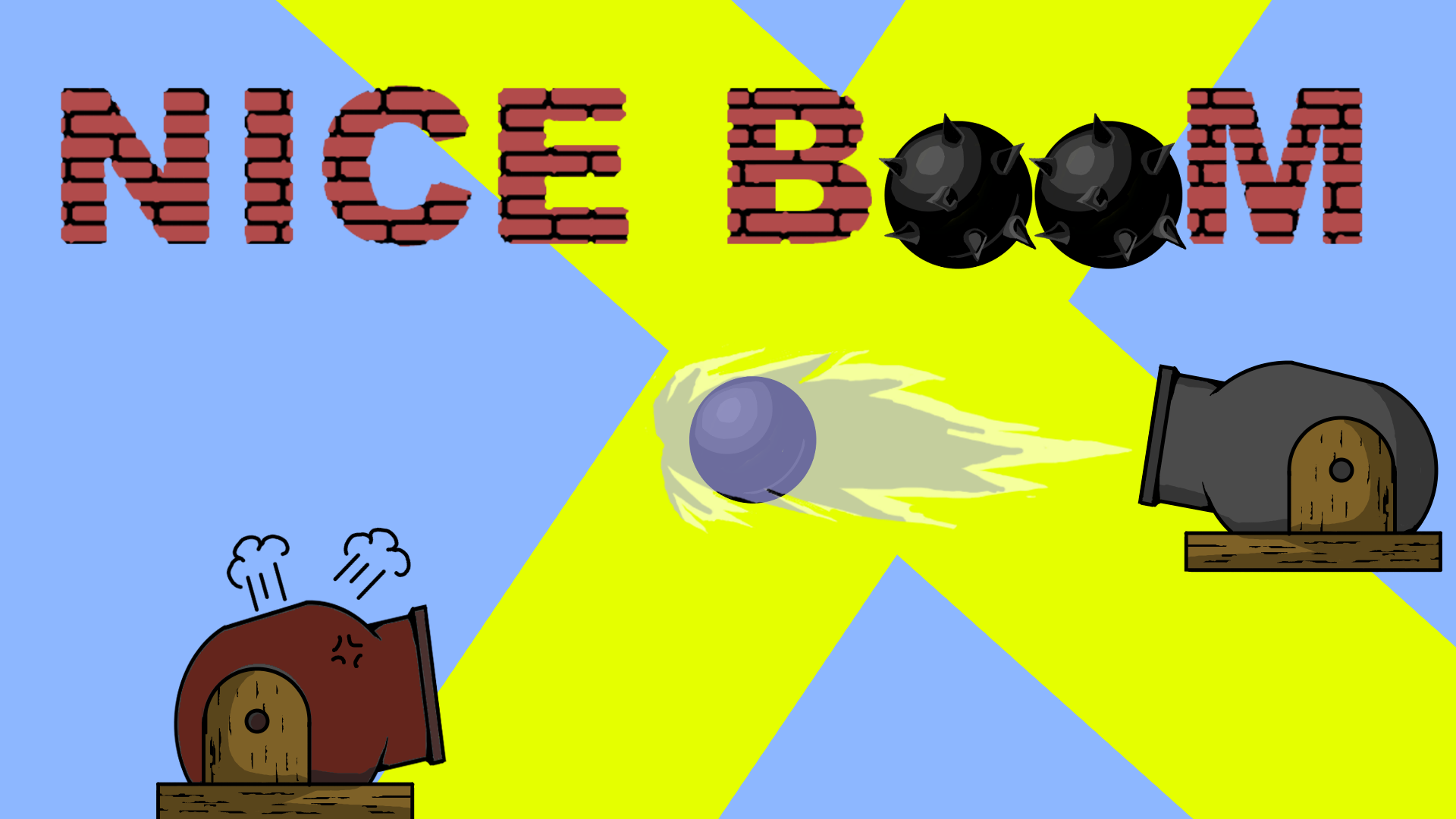 Nice Boom
2VS2に分かれて戦う、大砲を打ち合うゲームです。ボールを持っていない状態で落ちているボールを触ると拾うことができます。
ボールを自分の陣地の大砲にセット(Xで投げ入れる)。陣地後方のボタンを押すと発射。
発射されたボールが相手の陣地まで届けば相手にダメージとなります。相手の陣地の体力をゼロにした方が勝ちです。
相手陣地の大砲にセットされているボールを盗んだり、あいてを踏み潰してボールを奪い取ったりしながらゲームを有利に進めてください。
ボールは3種類、普通のボール(耐久力2,スピード2)、手裏剣(耐久力1、スピード3)、とげとげ巨大ボール(耐久力3、スピード1)。
身を挺して自陣を守ることも可能ですがボールの耐久力によっては、ボールを打ち消せない場合があります。
コントローラーの場合
十字キー:移動
Aボタン:ジャンプ
Xボタン:ボールを投げる
スタートボタン:各種決定
キーボードの場合
WASD:移動
スペースキー:ジャンプ
左クリック:ボールを投げる
エンターキー:各種決定
*テレビ番組用に作成されたゲームです。
---
2v2 battle game where you must destroy the opposing team's fort with cannonballs before they destroy yours!!
Pick up ammo by touching them, throw them into your cannons with left-click or X Button (gamepad), and fire your cannons by touching the button. You can also steal ammo from your enemies by either dropping on their heads from above or swiping them from their cannons. If you get hit by fired ammo, you will be stunned for a short period, but it's one method of protecting your base from damage! If your fort's HP hits zero, it's game over!
There are three types of ammunition: regular cannonball (Durability 2, Speed 2), shuriken (Durability 1, speed 3), and spiky cannonball (Durability 3, Speed 1). Use all three strategically to knock out your enemies and their fort!
Gamepad Controls
Directional Buttons: Movement
A Button: Jump
X Button: Throw ammo
Start Button: Confirmation
Keyboard Controls
WASD: Movement
Space Key: Jump
Left Click: Throw Ammo
Enter Key: Confirmation